By Cynthia Herbert :: 6:58 AM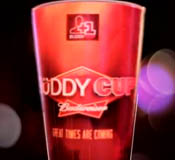 A new high-tech drinking glass introduced by Budweiser allows drinkers to automatically add fellow bar-mates to their Facebook friends list with a clink of the glasses.
The new Budweiser contraptions, called "Buddy Cups" are currently only available in Brazil. They are pre-programmed with your Facebook details, and when you and a new friend tap the glasses together in a toast, a friend request is sent to connect you on the popular social network. An LED light on the side of the mug confirms that electronic details have been exchanged.
Budweiser will introduce the cups across Brazil at venues and events that it sponsors, such as concerts, festivals, and parties. The concept was developed by ad agency Agencia Africa and Brazil creative studio Bolha.
It is not known if the brewer has plans to expand the technology outside of Brazil at this time.
See below for video of the connective cups in action.