By Paul Thomson :: 8:57 AM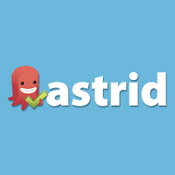 Yahoo yesterday announced the acquisition of Astrid, a mobile application that provides personal assistant functions and offers to-do list management.
The deal includes both the technology and Astrid's staff. Yahoo did not disclose a purchase price for the company.
Jon Paris, CEO of Astrid said, "when we set out to build Astrid, we sought to help as many people as possible become happier, healthier and more productive. We're really excited to join the mobile team and continue this work with Yahoo!'s goal of making the world's daily habits more inspiring and entertaining."
Astrid claims that the application, available on both iPhone and Android, had been downloaded by 4 million users. It will continue to function as normal for the next 90 days, but Astrid will no longer sell premium subscriptions for the product during that time. Yahoo will provide refunds to Astrid customers who have already purchased yearly subscriptions, or add-ons for the service.
"We're excited to welcome Astrid to Yahoo!'s mobile team," a Yahoo spokesperson said in a release. "Their background in personalized mobile experiences is impressive, and we know they will be a huge asset to as we continue to re-imagine our products."
Yahoo has not outlined exactly how the Astrid acquisition will fit into the company's overall mobile strategy yet. Yahoo has been busy making other deals lately, too – including Summly, a news summarization app, and Alike, a location discovery application.