By Paul Thomson :: 1:01 AM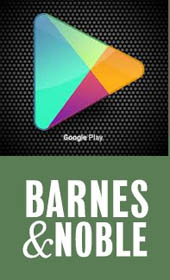 Book retailer Barnes & Noble has announced a partnership with Google that will bring the Android publisher's Google Play app store to Barnes & Noble's Nook reader tablet.
Google Play will be available on both the 7-inch Nook HD and the 9-inch Nook HD+ tablets in the U.S. and U.K. Barnes & Noble explained that a software update for the tablets will be available later on Friday.
By adding Google Play to the Nook, the tablet will gain access to over 700,000 applications – a huge leap from the 10,000 currently available in the Nook store. The move is seen by many as a play by Barnes & Noble to increase sales of the tablet, which have been faltering recently, in the wake of a weaker than expected holiday season.
"We saw coming off holiday the market moved to multifunction tablets," Barnes & Noble CEO William Lynch said in a statement about the move. "Consumer research showed us the breadth of applications available is really critical."
The software update will happen automatically to eligible Nook devices that are connected to WiFi hotspots. The update also includes other Google applications, such as the Chrome browser, Gmail, YouTube and Google Maps.