By Cynthia Herbert :: 12:46 AM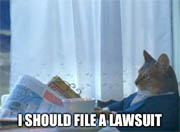 Cats and cat memes – the Internet is full of them. Now, creators of two popular cat memes, Keyboard Cat and Nyan Cat, have filed a lawsuit against Warner Brothers for using the cats in a video game without their permission.
The lawsuit, filed in federal court, argues that that Warner Brothers' game Scribblenauts, infringes their copyright and trademarks. Also named in the lawsuit is 5th Cell, the developer of the game. Creators of both cat memes have registered their feline creations for trademark protection.
"Defendants have used 'Nyan Cat' and 'Keyboard Cat,' even identifying them by name, to promote and market their games, all without plaintiffs' permission and without any compensation to plaintiffs,"the suit alleges.
Keyboard Cat, according to the suit, "was one  of the first memes to become a widespread internet viral phenomenon and still is wildly popular, most recently featured in a national Starburst candy television and online marketing and advertising campaign."
As for Nyan Cat, the pop-tart kitty was the fifth most-watched video on YouTube.com in 2011, the suit noted, and won the "Meme ofthe Year" award at 2012 Webby awards.
The case will be handled in federal court in Los Angeles.