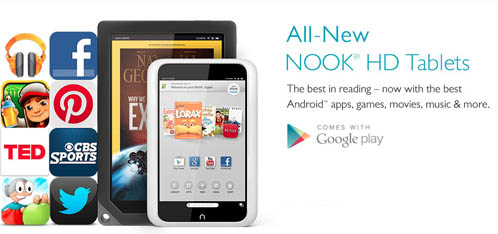 By Katherine McClosky :: 9:04 PM
Barnes & Noble already made headlines this week with its Nook reader and tablet by announcing that it would open up the proprietary Android platform to allow the installation of the Google Play app store. Now, the company is making another bold move for the Nook by cutting prices for two of its offerings through Mother's Day.
Sale prices will be as follows – the 7-inch Nook HD with 8GB will retail for $149, and the 16GB HD version for $179. Both prices reflect a $50 savings. As for the larger 9-inch Nook HD+, shopper will save $90 with prices set at $179 for the 16GB model and $209 for the for 32GB model.
"In recognition that the best gift for Mother's Day is now even better," said a Barnes and Noble spokesperson, "we're proud to offer this special limited-time offer for our award-winning 7- and 9-inch tablets."
The recent addition of Google Play capability to the tablets means that the platform now enjoys access to over 700,000 application titles in Google's Android store – a far cry from the limited availability of apps before Google Play came along. This, coupled with the generous drop in prices makes the Nook a much more attractive competitor to Amazon's Kindle Fire offerings
as well as the Nexus 7 tablets.