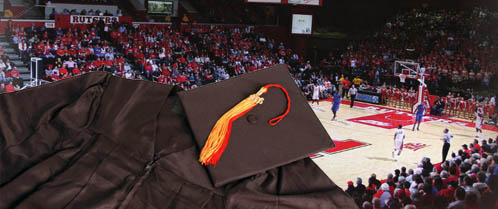 By Paul Thomson :: 5:31 PM
It's been a tumultuous couple of months for the Rutger's men's basketball team, and it looks like they're still in the middle of a wild ride.
After their former coach, Mike Rice, was fired for hurling insults and basketballs at players, the school has been touting its new basketball coach, Eddie Jordan, who took over on April 23. The school refers to Jordan as a Rutgers graduate, who earned a degree in health and physical education in 1977.
However, no one bothered to check with Rutgers' registrar. It turns out that Jordan did not earn enough credits to graduate from Rutgers, and does not have a college degree.
Sports news website Deadspin broke the news earlier today, and has a copy of Jordan's transcript from his time at Rutgers, showing that he clearly did not have enough credits to graduate.
For now, it appears that the University is sidestepping the issue of Jordan's degree. It provided this statement to Deadspin: "Eddie Jordan was inducted into the Rutgers Hall of Distinguished Alumni in 2004 and he has been a part of the Rutgers family since 1977. His athletic skills and leadership and his professional accomplishments have been a source of pride for Rutgers for more than three decades. We are excited to have him as our men's basketball coach and we look forward to many winning seasons."
Regulations set forth by the NCAA generally require that coaching staff have bachelor's degrees. The school has yet to make any other formal statement about the revelation of Jordan's degree news.
The screenshot below shows the page on the Rutgers Athletics website that refers to Jordan's degree status. The sentence about his 1977 degree is highlighted in yellow.