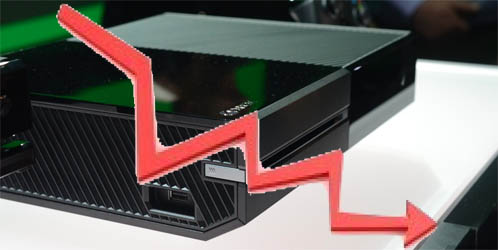 By Paul Thomson :: 8:52 AM
When Microsoft announced its new console gaming system, the Xbox One, last week, it also ushered in a new era for how used games are dealt with on its hardware. The change coming for used games caused quite a stir for stock in GameStop, a retailer who has long made good money on the used game market.
Investors are concerned that GameStop won't be able to withstand the new methods introduced with Xbox One for dealing with  previously owned games, and how they can be resold. Under these new terms, Microsoft will be involved in the transfer of all game titles going forward, and will require a cut of the cost of the resold game in order for the transaction to register with Microsoft, and for the game title to be removed from the original system, and transferred to the buyer's system.
Microsoft is planning to require all retailers who deal in used games for their system to participate in a cloud-based software transfer solution. The end retailer will likely be charged a fee to make this transfer, which could lead to higher game resale prices for consumers.
Stock in GameStop (NYSE – GME) dropped sharply last week, starting at more than $39 on Monday and descending to $32.11 by market close on Friday afternoon.
In addition to investor worries about the future of Xbox gaming, another issue putting pressure on GameStop stock is the general shift by consumers to mobile platforms for gaming. With game downloads happening through Apple's App Store and Google's Play marketplace, the retailer is completely left out of the equation when it comes to mobile gaming, giving it one less opportunity to pocket some profit.