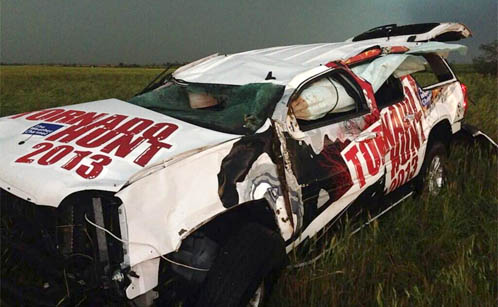 By Gilbert Falso :: 8:57 PM
An SUV belonging to The Weather Channel's storm chasing crew has been destroyed by a tornado in Oklahoma tonight.
The photo, above, shows the vehicle as it was found by Sean Schofer, a professional weather chaser who was on the scene shortly after the incident.
Schofer posted the photo above to Twitter, and verified that the Weather Channel employees in the SUV survived the crash, and had received only minor injuries.
Weather Channel Meteorologist Mike Bettes was driving near El Reno, Oklahoma, chasing a tornado when the storm picked up the vehicle and tossed it about 200 yards.
"I saw my life flash before my eyes," Bettes told the TV network in a phone interview shortly after the incident. Bettes says that the SUV's airbags deployed and all passengers were wearing their seat belts at the time of impact.
The greater Oklahoma City area continues to be rocked by heavy storms and tornadoes this evening.
Below, photo of the Weather Channel's GMC SUV before the accident: