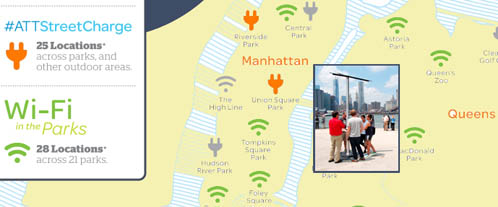 By Cynthia Herbert :: 2:31 PM
If you live in or are visiting New York City this summer, you'll be able to top up your mobile device's battery for free at charging locations across the city, thanks to a new program by AT&T called Street Charge.
Street Charge is deploying a cadre of solar powered charging stations in all five boroughs. Outfitted with solar panels on the top of the stations that feed a bank of lithium batteries in the base, the charging stations will work any time of the day or night.
Cables for charging your phone are provided at the station, for any device that uses a Micro USB, USB, 30-pin connector, or Lightning port cord to charge.
Roughly 25 stations will be placed across the city throughout the summer. Some areas that already have a station include Brooklyn Bridge Park, Coney Island, Riverside Park, Central Park, Randall's Island, Governors Island, Union Square, and Hudson River Park.
AT&T's Street Charge builds on the efforts the company made after superstorm Sandy last fall, when it provided similar charging areas and temporary cellular signal towers. New Yorkers who had lost power flocked to the AT&T installations to charge their phones and connect to the Internet.
"Recognizing the need for a sustainable charging solution," said an AT&T spokesperson, "we teamed up with solar industry leader Goal Zero and Brooklyn-based design firm Pensa to develop the initiative and bring it to local residents."
A map of charging stations, both currently available and planned, is below.