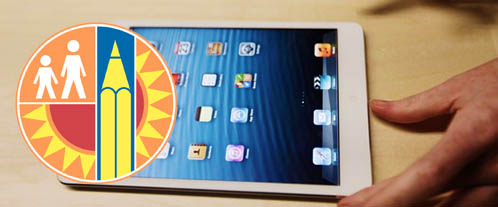 By Gilbert Falso :: 10:06 AM
The Los Angeles Unified School District (LAUSD), the second largest public school district in the United States, has made a decision to purchase 30,000 Apple iPad tablets at a cost to the district of $30 million.
This purchase approval marks the first phase in a district plan to provide every student with a tablet over the next 14 months. Students at 47 of the district's 1,124 schools will receive tablets during the first phase of the project, due to be completed by the end of 2013. The rest of the students will receive tablets over the course of 2014.
School board members voted 6-0 to approve the iPad proposal, however one board member, as well as the district superintendent, John Deasy, recused themselves from the vote because they are Apple stockholders.
District officials hope that students will be able to use the tablets for online textbooks as well as state mandated electronic tests.
Each iPad will cost the district $678, including cases and software from Pearson, an education software vendor. Funds are being allocated from a recently passed bond measure.
As part of the $30 million package, training and facilitators for staff and students will also be provided.