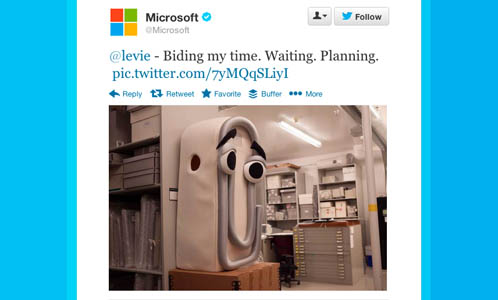 By Gilbert Falso :: 7:47 PM
A Tweet from the official Microsoft Corp. account earlier today showed an image of the company's venerable Clippy character with a message that he was patiently biding his time, planning his next move.
Clippy was a "virtual assistant" animated character that helped users complete tasks, and was introduced in Microsoft's Office desktop program suite beginning with the 97 version, and was phased out after the 2003 version.
When Twitter user Aaron Levie, who is also the CEO at Box, a cloud storage and sharing program, noted that Microsoft was currently undergoing a large corporate restructuring, he jokingly asked what had happened to Clippy.
Microsoft responded a few hours later with the photo of Clippy above, and the message, "Biding my time. Waiting. Planning."
Kudos to the Microsoft social media team for having a sense of humor and being quick on the draw to address customer questions.