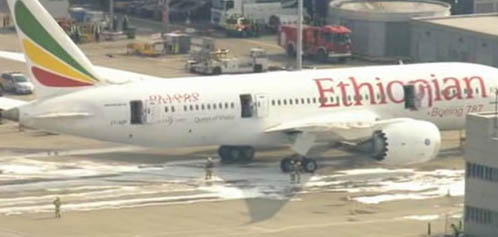 By Cynthia Herbert :: 12:55 PM
Flights in and out of London's Heathrow airport have been canceled or diverted due to a fire that has occurred on board a 787 Dreamliner aircraft belonging to Ethiopian Airlines.
The airliner was parked at the time the blaze was discovered, and no passengers were on the aircraft. The aircraft was close to terminal buildings, but the fire was contained within the plane. The incident occurred at 4:30 PM local time.
"The aircraft was parked on a remote parking stand," confirmed officials at Heathrow. "There were no passengers on board and there are no reported injuries at this time."
Fifty of the Dreamliner aircraft, the newest of Boeing's fleet, were grounded in January for issues with their batteries, and the possibility that these issues could cause smoke and or fire situations.
There is no word yet on when normal operations will return at Heathrow.