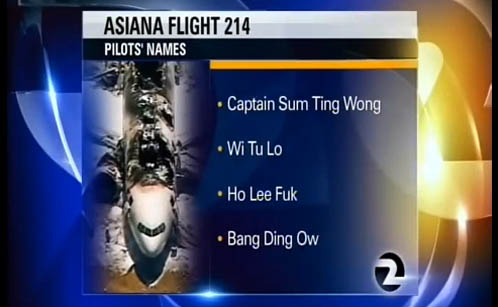 By Gilbert Falso :: 2:29 PM
Asiana Air Lines, the South Korean carrier whose plane (flight 214) crash landed at San Francisco International Airport last week, is suing a San Francisco television station after incorrect pilot names were released on the air on Friday afternoon.
KTVU-2, a Fox affiliate station, incorrectly broadcast racially offensive names as names of the pilots of the crashed 777. The names the station aired in its Friday Noon newscast were, Sum Ting Wong, Wi Tu Lo, Ho Lee Fuk, and Bang Ding Ow.
The station claimed that the National Transportation and Safety Board (NTSB) had provided the names, and that television producers had verified the information with an intern at the agency. However, the names were generated within the station itself, and the NTSB's staffer confirmed the incorrect names in error.
A spokesperson for the airline, Na Chul-hee said the carrier has retained a U.S. law firm to file a defamation claim against KTVU. The airline does not have any plans to file a suit against the NTSB.
"After a legal review, the company decided to file a lawsuit against the network because it was their report that resulted in damaging the company's image," he said.
The station has apologized, both on the air, and on their website, for the broadcast error.
"Nothing is more important to us than having the highest level of accuracy and integrity, and we are reviewing our procedures to ensure this type of error does not happen again," the station said in a statement released on its website.
Three passengers died in the crash, which occurred when the airliner approached San Francisco International Airport too low, and stuck a sea wall surrounding the runway.