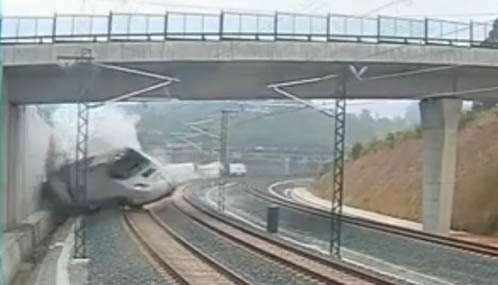 By Paul Thomson :: 10:31 AM
Video (below) has surfaced this morning of yesterday's horrific rail crash in Santiago de Compostela, Spain.
Footage of the accident was obtained from a security camera that was adjacent to the tracks at the time of the derailment. It shows the express train jumping the tracks as it rounded a curve.
At least one of the train cars burst into flames after the accident, and another car was broken in half. Local law enforcement officials have stated that at least 78 passengers were killed in the crash, and over 185 were injured.
The cause of the accident has not yet been determined, but many transportation experts believe excessive speed was a factor.