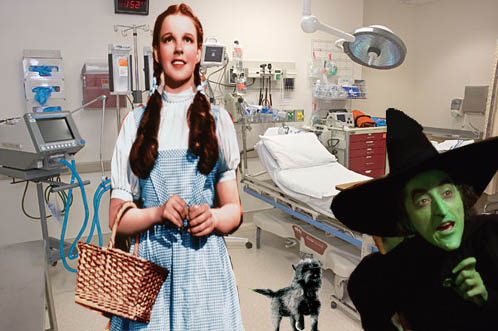 By Gilbert Falso :: 12:34 PM
Yes, we had to double-check this a few different ways to make sure this wasn't The Onion, or an episode of "Punked" – but it is true – CBS is developing a new medical drama television show based on The Wizard of Oz.
That noise you hear is most likely L. Frank Baum spinning in his grave.
The network has reportedly signed a deal to develop the series, which will be titled "Dorothy," and is described by sources as a medical soap-opera based in New York City, with inspiration provided by the characters and themes from The Wizard of Oz.
Emily Fox, the writer from Ghost Whisperer is also the lead writer on this endeavor, and it will be staffed by veteran CBS producers Carl Beverly and Sarah Timberman.
No casting information has leaked yet, so we're not sure who will grab the lead role of Dorothy. Also, no word on the possibility of munchkins. Though if they want any of the original munchkins from the 1939 film, they had better act fast. Margaret Pellegrini, one of the three last surviving munchkins who appeared in the feature film died earlier this week. Only two munchkins remain.