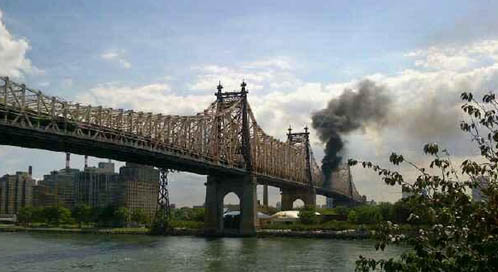 By Paul Thomson :: 11:41 AM
A fire and an explosion have been reported on the Queensboro Bridge (also known as the Ed Koch Queensboro Bridge or the 59th Street Bridge) in New York City.
Preliminary news reports seem to point to a vehicle fire of some type, and additional eyewitness reports via Twitter and other social media sites claim that the accident involves a large truck, perhaps a tanker truck filled with explosive liquid.
Update: No injuries have been immediately reported, but FDNY sources say the fire is under control, as of 11:57 AM local time. Some electrical and/or communications cables that run along the side of the bridge may have also been damaged in the fire. The upper level of the bridge has been reopened to traffic, at least in one direction. Law enforcement officials have said that there are no signs that this is a terrorist event.