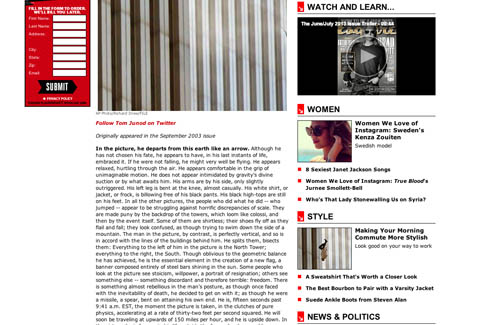 By Paul Thomson :: 12:06 PM
The image above comes from Esquire Magazine's website today, on the sidebar for some of the content pieces of the site. It's an unfortunate mistake that pairs a photograph of a man falling to his death from the World Trade Center twelve years ago today with a headline about what to wear to work.
The falling man photo is included on this article about September 11th on Esquire's website, and fits in that context, but not when accidentally paired with another article title, as has happened here.
Esquire's error was first noticed by Twitter user Emily Kaiser, Associate digital producer at Minnesota Public Radio around 11:40 AM, Eastern time.
After a number of Twitter users, including Kaiser, pointed out the error and messaged Esquire, the magazine removed the photo from the sidebar about 20 minutes later.
Update: The magazine Tweeted the following response at 12:12 PM: "Relax, everybody. There was a stupid technical glitch on our "Falling Man" story and it was fixed asap. We're sorry for the confusion."