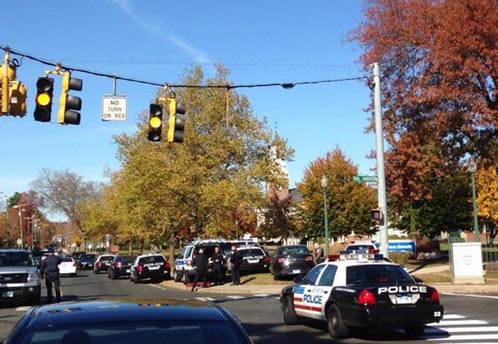 By Gilbert Falso :: 1:03 PM
Campus officials and local police officers have issued a lockdown order for the Central Connecticut State University (CCSU) in New Britain, CT.
At this time, they are declining to provide the reasons behind the lockdown. However, many students on campus are turning to social media for answers, and finding only confusion.
Pictures are being sent via Twitter and Facebook of police officers on campus, walking with guns drawn, but no suspect or incident has yet to be identified. The school has only referred to it as an "unspecified campus emergency," and clarified that it was not a drill. Students and others currently on the campus have been told to "shelter in place."
Local news reports are mentioning a possible gunman on campus, but those reports have not been confirmed by law enforcement officials.
The photo above shows police activity adjacent to the campus, and was posted to Twitter by a TV news reporter for FOX's Hartford, CT affiliate.
New Haven, CT television station WTNH is broadcasting a livestream of news from the scene. Reporters on that station have said witnesses reported seeing a young man walking around wearing camouflage and carrying a weapon.
Students in dormitories have been told to lock and barricade their doors.
Two nearby elementary schools have been placed on a modified lockdown status while the event at CCSU is being resolved.