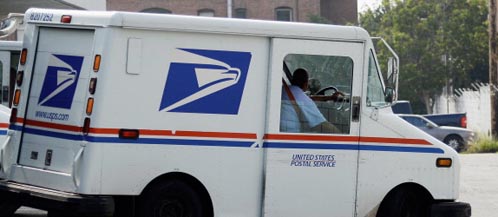 By Gilbert Falso :: 6:53 AM
The U.S. postal service, hit lately from declining mail volume revenue, might be getting a shot in the arm from online retailer Amazon. The Seattle-based online marketplace today is announcing a partnership with the post office to offer package delivery on Sundays at normal postal rates.
Under terms of the deal, U.S. Postal Service employees will deliver Amazon goods to homes and businesses on all days of the week, including Sundays. While the USPS has, in the past, offered Sunday shipping in some areas, it required use of the agency's Express Mail class of service and higher rates. The deal with Amazon will deliver packages at standard rates.
The program will begin as a pilot in the Los Angeles and New York City metro areas, and is expected to quickly expand across the country. The Postal Service believes that the partnership with Amazon could help lift it out of its current financial funk.
"As online shopping continues to increase, the Postal Service is very happy to offer shippers like Amazon the option of having packages delivered on Sunday," said U.S. Postmaster General Patrick R. Donahoe.
With its volume of letters dropping by half in the past ten years as Americans shift bill payment and personal correspondence online, the agency is looking for arrangements like the one with Amazon to help boost revenues.
Although no specific numbers were given on the expected revenue increase, historical growth shows the number of packages shipped by the agency on the rise. In 2012, the USPS delivered 3.5 billion parcels, up from 3.3 billion in 2011 and 3.1 billion in 2010.