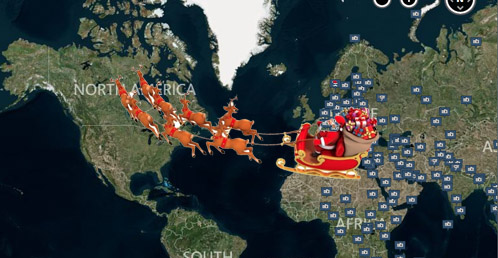 By Gilbert Falso :: 6:28 PM
Here we are again, another Christmas Eve is upon us, and the big man in the red suit is about to take to the sky to deliver his sleigh full of presents to good boys and girls throughout the world. As in years past, the folks at the North American Aerospace Defense Command (NORAD) are ready to help track Santa as he makes his annual excursion around the planet.
NORAD has been tracking Santa for 58 years, and has been adding new technology every year, to be able to give boys and girls the most up-to-date information about where the jolly old elf will be headed next.
This year, as well as manning the traditional tracking website at noradsanta.org, the volunteers that run the Santa tracking system have also released mobile apps to track the big guy – available for both Android and iPhone. In addition to being able to track the whereabouts of Santa, the apps also offer games to entertain young ones, who are eager for Santa's arrival.
Of course, with the popularity of social media sites like Twitter, you can also follow NORAD's Santa Tracker tweet feed to receive updates as they happen: @NoradSanta.