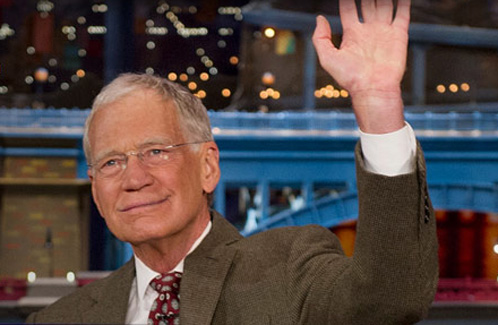 By Gilbert Falso :: 8:42 PM
The long-time star of late night comedy television, David Letterman, announced his retirement during the taping of his CBS show earlier this afternoon. It did not appear to be a pre-planned event, and CBS later issued a press release about his intentions.
"We don't have the timetable for this precisely down," Letterman told his surprised audience. "I think it will be at least a year or so, but sometime in the not too distant future, 2015 for the love of God."
Letterman also noted that his longtime band leader and fellow Late Show star Paul Shaffer will also be stepping down with him.
News of his retirement traveled quickly, and was kicked off with a Tweet sent by Mike Mills, a performer present at the taping who sent a message reading, "Dave just announced his retirement."
The studio audience gave the news a standing ovation.
Letterman has been behind the desk for the Late Show at CBS since he moved there from NBC in 1993. Prior to that, he had spent over 20 years on NBC as the host of Late Night with David Letterman. When Johnny Carson left the Tonight Show in 1992, Letterman was shocked when he was not picked as his replacement, and left NBC at that time.
Although frequently a guest and stand-in host on Carson's show, Letterman's tenure with NBC started in 1980 when he hosted a morning comedy show called, The David Letterman Show. His show was a hit with critics, and garnered him two Emmy Awards, but was a ratings flop and was canceled in October, 1980.
Still under contract, the network moved him to nights in 1982, and the very first episode of his late night career can be seen below.
;