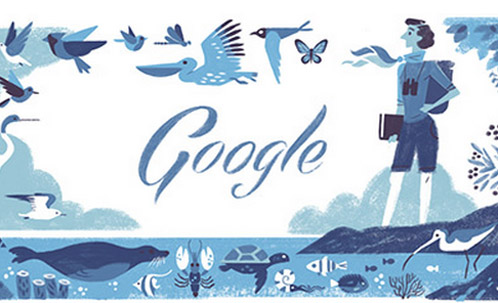 By Cynthia Herbert :: 2:23 AM
If you've been to Google's homepage today, you've likely seen the image above. But who is that woman with the binoculars, field guide, and knapsack?
Today's Google Doodle pays homage to Rachel Louise Carson, a marine biologist by training who was an American conservationist in the middle of the 20th century. She was born on May 27, 1907. Carson is probably most well known for her 1962 book Silent Spring
, which brought to light the negative effects on the environment that the widespread use se of pesticides was having in post-war America.
From extensive research done in the 1950s, most of which centered on birds and waterfowl, Carson pointed a finger at the growing chemical industry and their production and marketing of synthetic pesticides. Carson accused the chemical companies of disseminating bad information, and also targeted public officials for not investigating the damage that chemicals were doing to the environment.
The book was widely denounced by U.S. chemical companies when it was published, but it resonated with the American public, and eventually led to the banning of popular pesticide DDT for agricultural purposes, and kicked off an environmental movement in the country that eventually saw the creation of the Environmental Protection Industry.
The title of the book, Silent Spring comes from the decline in bird population that Carson and other researchers noticed, and later attributed to overuse of pesticides in the country. Fewer songbirds in the skies and trees made for a much quieter springtime.
Carson died of complications from breast cancer in 1964.