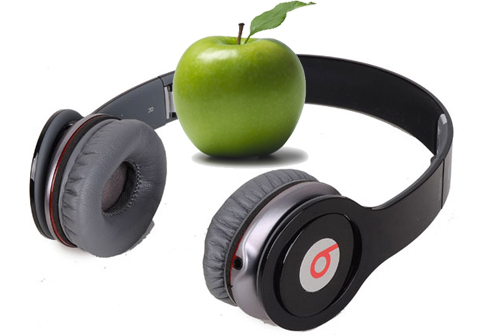 By Cynthia Herbert :: 5:10 PM
Apple Computer today confirmed what had been rumored weeks earlier – they have entered into a deal to purchase the Beats Electronics company for $3 billion.
Beats, maker of well known headphones hawked by rapper CEO Dr. Dre, also runs a streaming music service – something Apple is keen to get its hands on. When news of a possible deal originally broke, the price was slightly higher, but no worry, with a 25% stake in the company, Dre will likely get about $750 million out of the deal.
"It's the future we're betting on," said Apple CEO Tim Cook in an announcement about the deal. "We're gaining rare talent, a fast-growing subscription service and premium headphones that have done incredibly well."
Beats subscription music service, launched in January, has about 112,000 subscribers – a number that Apple certainly hopes it can increase quickly. The company was purchased not for its headphones, but for the streaming music portion of the business, noted Cook.
It appears, for now, that Apple will keep the Beats brand separate from Apple, but Dre and Beats co-founder Jimmy Iovine will spend considerable time at Apple's headquarters in the Silicon Valley as key executives in the company.
The deal, consists of of $2.6 billion in cash and $400 million in Apple stock, the vesting of the stock will occur over an unspecified time period. This is by far the most expensive deal that Apple has entered into in its 38 year history. Pending regulatory approval, the deal should close sometime in September.
Apple did already have a streaming music subscription service, iTunes Radio, via the iTunes platform, but it has shown lackluster performance since it was launched last fall.