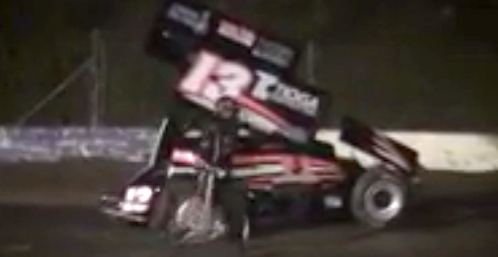 By Cynthia Herbert :: 12:05 AM
On Saturday night, NASCAR driver Tony Stewart was involved in a fatal dirt-track racing accident at upstate New York's Canandaigua Motorsports Park. Stewart was in New York for a NASCAR race on Sunday, which he did not compete in, at nearby Watkins Glen International Race Track. Saturday night's race was not a NASCAR event.
Another racer on the dirt-track course was killed when Stewart's car slide into him and tossed him about 50 feet down the track.
20-year-old Kevin Ward Jr. died from his injuries at a nearby hospital. His car was struck by Stewarts in a turn, and after he spun out, he climbed out of the car and walked along the edge of the track, motioning towards Stewart. Stewart's vehicle then approached alongside of Ward and struck him by sliding into him.
Law enforcement investigators are still working on the case, and many spectators allege that Stewart purposely drove close to Ward as he was walking on the track, and accelerated as he passed him, causing the car to slide into Ward and throw him into the air.
At this time, no charges have been filed, and Stewart released the following statement: "There aren't words to describe the sadness I feel about the accident that took the life of Kevin Ward Jr. My thoughts and prayers are with his family, friends and everyone affected by this tragedy."
Video from the race, below, shows Ward being struck by Stewart's car.