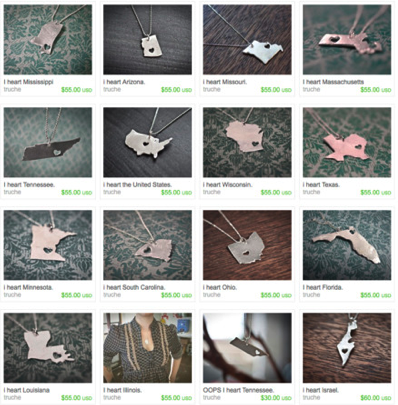 By Gilbert Falso :: 3:17 PM
Independent designers in the craft jewelry community have banded together over the past two days, using Twitter to call out clothing and accessories retailer Urban Outfitters for counterfeiting the work of artist Stevie Koerner.
It all started when a customer of Koerner's Etsy jewelry shop told her that similar designs had appeared on Urban Outfitters' website. The designs in question were necklaces of the 50 states, with hearts punched out in the centers.
On Wednesday, Koerner posted a message on her Tumblr blog that read, "I'm very disappointed in Urban Outfitters. I know they have stolen designs from plenty of other artists. I understand that they are a business, but it's not cool to completely rip off an independent designer's work."
That post was like 'the shot heard round the world' in the design community. Koerner's post was quickly picked up and linked on Thursday from Twitter by Amber Karnes. She Tweeted, "I think it's time to boycott Urban Outfitters. They have done this to so many independent artists. NOT OK."
Within just a few hours, Urban Outfitters became a trending topic on Twitter, and plenty of people jumped in to support Koerner's cause. Twitter users flocked to the Urban Outfitters Facebook page to vent their criticism. Across Twitter, users were calling the situation a "PR Nightmare."
Urban Outfitters acknowledged the situation with only one Tweet – saying, "Hey guys, we see your tweets regarding the I Heart Destination necklace. Please know that our accessories buying team is looking into this."
By the end of the day on Thursday, the link to purchase or view the counterfeited jewelry had disappeared from the Urban Outfitters website.
At this point, it does not appear that Urban Outfitters has released a statement to the press regarding this situation.