Bing.com Releases Infographic and Data from State of the Union Address
By Gilbert Falso :: 6:59 PM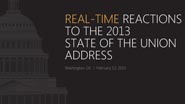 Yesterday, Microsoft's search engine, Bing, launched a Politics portal called "Bing Pulse" to track social media mentions across President Obama's State of the Union address. Today, Microsoft is sharing data and insights from the project.
"Last night, millions of Americans tuned into President Obama's State of the Union address – and Bing stood alone in giving people a rare opportunity to give real-time feedback and access live social data at Bing.com/Politics," explained Mark Penn, Microsoft's Corporate Vice President. "Bing's State of the Union experience featured the breakthrough Bing Pulse – what turned out to be the largest live online poll in history."
The search engine partnered with FOX News on the project, and offered what Bing officials outlined as a "non-partisan online destination designed to meet a growing need for up-to-the-minute political information and second-screen experiences."
Bing Pulse receieved nearly 13 million million votes – these were cast during the online conversation about the address, and visitors were asked for their input by voting their reaction every five seconds on the content of President Obama's speech. Live results from the voting process were shown on FOX News.
Today, Bing.com made available the infographic below, which examines the real-time reactions to the speech. Click to enlarge.