By Paul Thomson :: 9:52 PM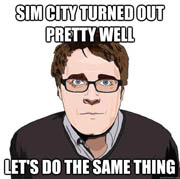 Yesterday, we posted the story of Microsoft Creative Director Adam Orth, and the negative reactions he drew from Twitter and the gaming community after he ranted on Twitter about complaints regarding always-on requirements for gaming consoles like Microsoft's Xbox.
After being the target of much hate and scorn on gaming sites, and around the Internet on places like Reddit, Twitter and Facebook, Microsoft today has issued a statement regarding the situation.
"We apologize for the inappropriate comments made by an employee on Twitter yesterday. This person is not a spokesperson for Microsoft, and his personal views do not reflect the customer centric approach we take to our products or how we would communicate directly with our loyal consumers. We are very sorry if this offended anyone, however we have not made any announcements about our product roadmap, and have no further comment on this matter."
Orth himself has not publicly commented about the incident, and his Twitter account is still locked. He locked it yesterday evening after news reports started to circulated about his unpopular posts. Microsoft did not comment on Orth's employment status, or if any action would be taken against him.
"Sorry, I don't get the drama over having an 'always on' console," is one of the Tweets Orth sent yesterday. It has been long rumored that Microsoft's next console, the Xbox 720, will require a constant connection to the Internet in order for users to play games.