Paul Thomson :: 9:08 PM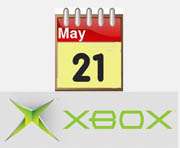 Get ready, gamers – Microsoft has announced the day of the next generation Xbox console debut – Tuesday, May 21.
Although it won't ship until sometime in November, Microsoft will reveal the new hardware next month, as well as finally tell the truth behind all of the rumors about it requiring an always-on Internet connection.
Giving additional credibility to those rumors are the tips that sources are passing along about two different price points for the new Xbox, which will just be called Xbox, and not Xbox 720. Many close to Microsoft are claiming that the console will cost around $500, but a lower price point (between $300 and $350) would be available with some type of subscription. No additional detail on what type of subscription, but you can bet that however it is managed, this may be the way they ensure always-on connections to the gaming hardware.
Microsoft has been under some pretty close scrutiny lately for the always-on Internet requirements. Last week, one of its employees, Adam Orth, was publicly ridiculed on Twitter, Facebook, and Reddit, after he defended the merits of an always-connected gaming platform.