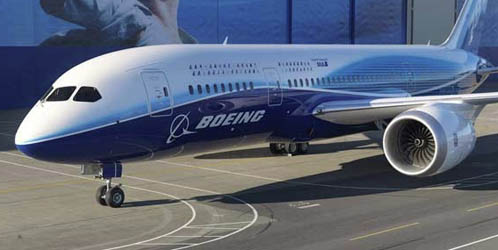 By Paul Thomson :: 4:46 PM
In addition to a fire on board a Boeing 787 Dreamliner aircraft at London's Heathrow airport earlier today, a second issue has also been reported with another UK-based aircraft.
British tour operator Thomson Airways confirmed to the Associated Press that one of its Dreamliner planes was en route from England to the United States and was forced to turn back after experiencing a technical issue in flight.
The Thomson Airways jet had departed the UK's Manchester Airport bound for Sanford, Florida. It landed safely back in Manchester, where all 291 passengers disembarked from the plane and Boeing engineers are inspecting the aircraft.
It is not clear of the Thomson plane's issues were battery related or not. Earlier this year, Dreamliner aircraft were grounded due to issues with heat and fire with their batteries and charging mechanisms. These problems resulted in an emergency landing for one aircraft, and a fire on another.
U.S. aviation regulators cleared the aircraft for flight again in April, after Boeing made some engineering changes to the batteries.
Boeing stock dove nearly 5% today, closing at $101.87 after investors worried about the future of Boeing's new aircraft model.