By Paul Thomson :: 12:53 PM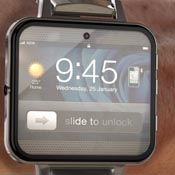 It has been widely covered over the past few weeks, but much of the speculation was just that – rumors and questions – but today, it looks like we may have a more clear picture on what Apple is planning with its "iWatch" wearable computer watch.
According to Bloomberg News, Apple will introduce the device this year, citing unnamed sources close to Apple. The company has been busy filing patent applications – nearly 80 of them – that include the word "wrist," as well one for a wearable device that features a flexible screen, powered by kinetic energy. Previous reports have said that Apple has about 100 designers and engineers working on the watch project right now.
Apple's entry to the wearable computer marketplace is timed very close to that of its rival, Google. With Google's wearable Glass product (Internet-connected eyeglasses with a display viewable by the wearer) emerging out of beta later this year, the two companies are poised to go head-to-head with each other in the wearable gadget space.
Reports claim that the watch industry is a hot place to be right now, with analysts predicting about $60 billion in sales for 2013. Gross margins on watches are about 60 percent, according to Citigroup analyst Oliver Chen. With the right mix of Apple's design smarts and popular fast adoption of all things iOS-based, an iWatch from Apple could be the holiday season's hottest product.