By Gilbert Falso :: 12:09 AM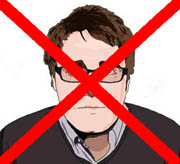 Last week, Adam Orth, who was, at the time, a creative director at Microsoft, caused quite a stir on the Internet and social media when he strongly advocated in favor of always-on gaming devices on Twitter. Orth made several Tweets about how he didn't understand the problem many people had with Internet-connected gaming consoles, and appeared out of touch and insensitive to the gaming community. Some backstory here and here.
Microsoft had initially made an apology for Orth's behavior, but did not comment further at the time. Now, according to sources who have told their stories to Polygon, Orth no longer works at Microsoft.
Reached for comment to confirm Orth's firing, Microsoft simply stated that they will not comment about individual human resources actions. In a telling move, however, Orth's Twitter bio, which had mentioned his job at Microsoft, is now blank.
Microsoft received a barrage of criticism following Orth's Tweets – negative comments towards the company on Twitter, Facebook, and Reddit persisted non-stop for several days.