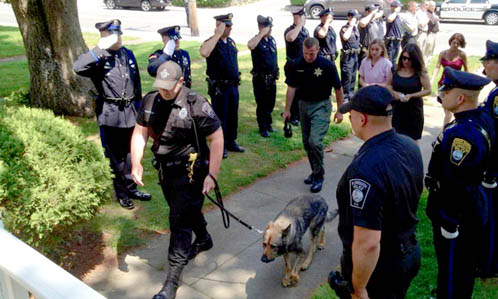 By Cynthia Herbert :: 5:20 PM
Grab a tissue, because you're going to need it for this story. The picture above, posted to Reddit earlier today, shows Kaiser the German Shepard, a police dog stationed with police department in the town of Plymouth, Massachusetts.
Kaiser is being led on his final walk, saluted by his fellow officers, as he is taken into the veterinarian's office to be euthanized.
The dog had been serving with the department for several years, trained for criminal pursuit and apprehension, crowd control and disbursement, and searches of buildings and areas for evidence recovery.
Recently, he was diagnosed with severe kidney disease, and his health declined to the point where his kidneys failed. The department made the difficult decision to euthanize Kaiser, and he was laid to rest earlier today at the Angel View Pet Cemetery in Middleboro, Mass.
In a post to the Plymouth Police Working Dog Foundation's Facebook page, his handler said the following about his partner:
"Kaiser battled this disease with vigor and toughness like I have never seen before. Although, as of late, the disease has taken the upper hand forcing him out of his craft and ultimately out of this world. Kaiser taught me more about myself and my profession than I could have ever taught him. I feel privileged to have had a front row seat to witness his bravery and heroic actions while serving the people of Plymouth and my brothers and sisters in blue. Although his career was short lived, he made a huge impact that will never be forgotten."
Related story: Dog injured by tear gas in Turkey protests receives treatment